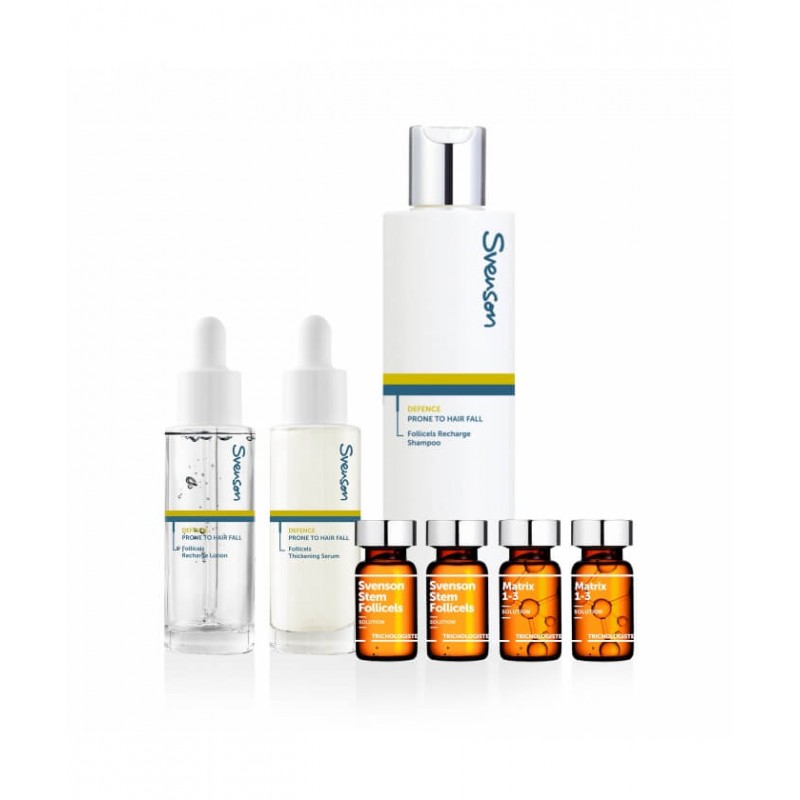 *Images shown for illustration purposes only.
Nutritive Care Kit
Includes:
2 Hair Matrix 1-3 & 2 Stem Follicels Ampoules
Follicels Recharge Shampoo (250ml)
Follicels Recharge Lotion (30ml)
Follicels Thickening Serum (30ml)
For advanced hair loss, or diffused hair loss.
The Nutritive Care Kit comes with Follicels home care products and 2 Hair Matrix 1-3 & 2 Stem Follicels Ampoules that you can either use at home, or at our centres.
2 Matrix 1-3 & 2 Stem-Follicels Ampoules
A complementing duo of ampoules - the Matrix 1-3 works on stimulating hair stem cell to promote hair growth while Stem-Follicels is clinically proven to enable superior penetration of key actives into hair follicles!
Follicels Recharge Shampoo
Get healthier hair and scalp as the herbs and botanical blend in this shampoo acts as effective antioxidants, deep cleanses the scalp while improving the moisture level and strengthening the scalp barrier.
Follicels Recharge Lotion
Increase hair density and strength with this lotion as it contains an impressive multi- mineral mix to detox scalp, and slow the ageing process of follicles.
Follicels Thickening Serum
This serum reactivates hair follicle stem cells for astonishing hair growth! With a medley of key actives,  scalp is protected against oxidative damage, and stem cell activity is enhanced.
Apply Follicels Recharge Shampoo evenly throughout wet hair. Gently massage into scalp, building up a good lather. Rinse thoroughly.
Massage gently and evenly on the scalp for 2 minutes - Follicels Recharge Lotion for day and Follicels Thickening Serum for night. Do not rinse. Use 6-8 drops daily to nutrify and strengthen hair follicles.
Once a week, apply the ampoule on the entire scalp after shampoo, and massage gently using fingertips. Do not rinse. Alternatively, visit Svenson centres with the ampoule for complimentary treatment service.